About Ownway
Guangzhou Ownway Display Equipment Co., Ltd. was established in 2008 in Guangzhou, China, specializing in shop display props design, matching, production, sales and transportation one-stop service. With a professional sales service team, improve the supply chain system, excellent core products, the rapid growth of the advantages of a marketing-oriented enterprises. So far the products are exported to more than 30 countries and regions around the world, product lines continue to expand, to meet almost all types of shops for decoration, decoration needs.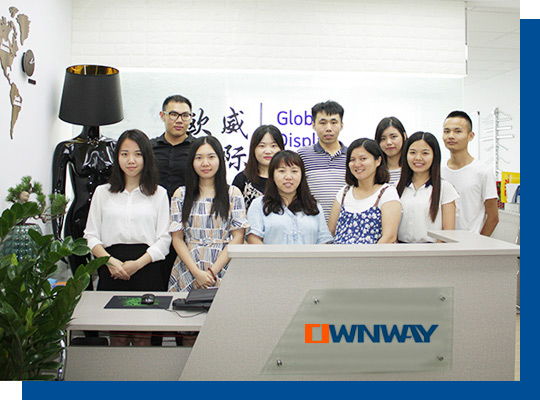 The company's business philosophy is "to create the best service" for the service customers to receive orders from the production, packaging, transportation, export all the services of the process. Always to customer needs for the company to develop the core of operations, in accordance with customer requirements flexible product content and cooperation. The most intimate service is our core competitiveness, and strive to do for customers: peace of mind, save time, save trouble for the country's export trade service process to a higher level to do their part.
· Development Process and Honor
2007 year: Ownway company through the Italian display equipment company to negotiate, the scope of business began to expand into the design, production and transportation links.
2008 year: Guangzhou Ownway Display Equipment Co., Ltd. was established in Guangzhou, and quickly set up their own sales team, the service team to run in full.
2009 year: The company set up the official website, and in the year to successfully participate in the Canton Fair to obtain large quantities of customers and business.
2010 year: The company began to invest in Foshan and Zhongshan factory cooperation with the local factory, established its own stable supply chain, in order to provide customers with better service and laid a solid foundation.
2011 year: The company led the company successfully opened up the Canadian and European markets, began in the industry major distributors for extensive cooperation.
2012 year: With the industry for many years in the integrity of the development of the company to enter the rapid growth of product lines continue to expand into a true sense of the integrity of the system supporting business.
2013 year: The establishment of its own service model, to achieve from the customer booking, to help customers design, production, packaging, transport one-stop service.
2014 to date year: The company's development goals to build a strong team, give full play to their own advantages, the establishment of the electricity business platform to further enhance the company's competitiveness.